PlaySmart offer a unique range of playground flooring and surfacing. Whether your project is being led by the need for vibrant colours, natural aesthetics or if safety is paramount, we have a product to suit. With our unrivalled experience, customer service and product range – we have the solution, whatever your surfacing needs.
Our Products
Environmentally friendly choice for grass mats. It's recycled, long lasting and allows the grass to grow through for natural play.
The original fire retardant grass mat safety surfacing for playgrounds and recreational areas.
The highest quality bonded rubber mulch, available in a range of colours, making surfaces brighter and more vibrant for longer.
RubbaSmart wet pour is a smooth surface that can be used to brighten up any area whether you want to use solid colour or incorporate crazy designs.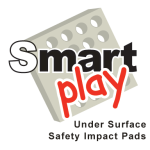 Patented shock pad – can be combined with EcoSmart or FireSmart grass mats offering an enhanced safety surfacing system for natural play environments.
Water permeable surfacing for pathways and rural trails, using a blend of naturally decorative aggregates and recycled rubber granules from used tyres.
Multigame modular outdoor sports surfaces. Maintenance free and playable in any type of weather. With custom designs available, this product is the right choice for many different types of uses.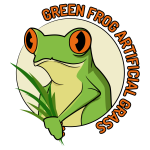 Your go-to place for luxury artificial grass at an affordable price. Green Frog has a focus on quality – providing products that look and feel amazing. Our grasses are visually pleasing and provide a super realistic, easy maintenance alternative to traditional turf surfacing.